What is 360° Video?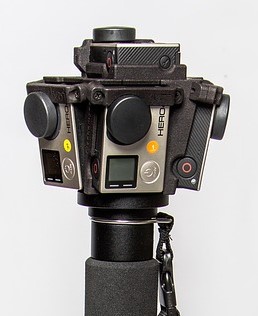 360° videos are videos where the user can turn their head (or viewing window) to see the environment in all directions.
This is usually created by 'stitching' together footage shot from multiple cameras pointing out from a single point, like the 360° camera rig at right. 360° video may also be animated.
Generally 360° video is immersive but not interactive; the user cannot move around the environment, only look around from a fixed point.
360° video can be viewed with any headset for an immersive experience, or on any device screen using click-and-drag to look around.
Below are some immersive 3D 'scans' of the QUT libraries. Click around each scan to move to different points in the library, and click on the coloured dots to view extra information about a particular location or service.